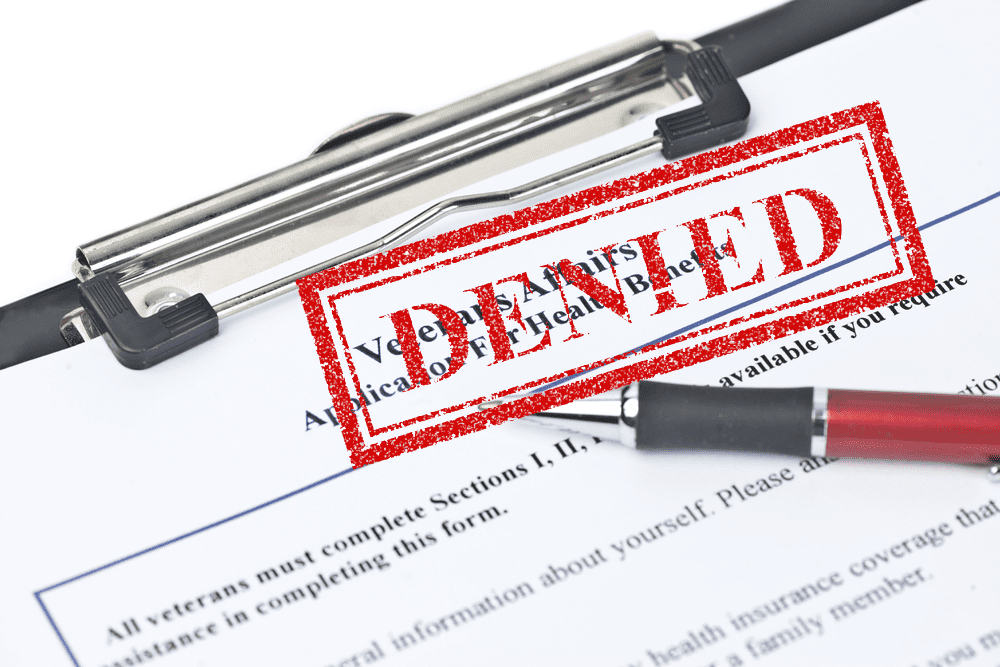 VA Claims Denied? Here's What to Do
The VA claims process can be long and confusing. Approximately one-third of the claims filed are denied. As frustrating as this can be, this is not the end of the road. You can appeal your denied claim with the VA. 
Having your disability claim denied by the VA can cause a lot of stress. In many cases, your appeal can be fast-tracked if there is missing information from your initial claims application. Your first step is to understand the reason your claim was denied.  
Reasons Why Claims are Denied
There are several reasons that your claim may have been denied, and understanding the reason behind your denial is the first step toward getting your decision reversed. Many times, the denial is due to one of these primary reasons: 
No Diagnosis
When first applying for disability with the VA, many veterans will prove exposure; however, they fail to submit proof of a medical diagnosis that the exposure led to a disabling illness or condition. For example, exposure to Agent Orange during the Vietnam era led to a lot of claims where the veteran could prove exposure but did not provide a medical diagnosis for the resulting condition, such as leukemia or other cancers.  
No In-Service Evidence
Many times, a veteran can prove the diagnosis, but their documentation of exposure might not be easy to track with their service record. The more detail you can provide regarding your exposure while you were in service, the better your chances of your claim being approved.  
No NEXUS
Many times, the denial of a claim is due to a combination of a lack of diagnosis or in-service evidence. You may be able to prove both, but the VA is having trouble connecting your diagnosis to your service. The connection between the two does not need to be direct, but you do need to provide evidence of some sort of relationship between the two.  
It is common, during the process of filing a disability claim, for the VA to request a C & P Exam. Failure to attend a C & P exam is one of the top reasons for claim denial. In many cases, this can happen because the veteran was unaware of the scheduled exam. 
How to Reopen A Denied VA Claim
The first step in reopening a denied claim is to complete and submit a Notice of Disagreement (NOD)  Vets National can help you determine if other claim forms need to be included in your appeal.  
You have three different options for appealing a VA claim. These options are: 
Supplemental Claim.

You can file a

supplemental claim

if you have new evidence that is relevant to your claim. This would include new medical records or a new diagnosis that would strengthen your original claim.

 
Higher Level Review.

If you  disagree with the initial decision on your claim, you and/or your representative/advocate can request a

higher level review

of your initial claim. 

 
Board of Appeals.

You can appeal your claim to the

appeals board

. Your claim will be reviewed by a veterans law judge at the appeals board in Washington DC.

 
To decide which option is best for you, a Vets National advocate can help you with your application process. 
Refiling a Denied VA Claim
There are times when appealing a decision is not quite as easy. In these circumstances, you will need to refile your VA claim.  You will be able to refile your denied VA claim if there is substantial new evidence in support of your claim.  
It is in your best interest to obtain guidance on your path to appealing your denied claim. Advocates at National Vets are ready to help you through this process. Contact National Vets today for more information.