Veterans Affairs Report Reveals Successes and Failures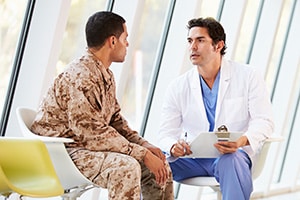 On July 29, the office of Veterans Affairs (VA) released their Healthcare Inspection, a 50-page report documenting the VAs successes and failures in the aftermath of last years debacle.
While the VA notes some positive changes, including hiring 1,000 doctors and over 2,700 nurses, it also reveals that wait times for veterans seeking medical care is still too long.
Have you been denied disability benefits from the VA? At Vets National Advocates, we are not lawyers, but we do advocate for those unfairly denied the benefits they need after serving in our armed forces.
Let us help you appeal your claim! Call 877-777-4021.
According to the report, long delays, specifically those over 90 days for non-VA care coordination services, were still prominent. Non-VA Care Coordination is medical care provided to eligible veterans outside of the VA when VA facilities are not available.
A lack of follow-up, delays getting non-VA Care Coordination and staff not verifying eligibility for non-VA Care Coordination was still prominent between June 2014 and March 2015. Some of the consults for non-VA Care Coordination services were canceled because they had been open longer than 90 days.
However, the report notes that about 97 percent of appointments within the VA are completed within 30 days and the electronic waiting list decreased by 55 percent. Since April 2014, the VAs new outreach program has reached 45,000 newly enrolled veterans in the VA healthcare system.
In 2014, about 72,500 veterans were also placed in permanent housing. By 2017, the VA expects to serve about 10 million veterans, mostly from the Vietnam era.
Veterans Advocates
Although we are not a law firm, our advocates have years of experience assisting veterans in obtaining the benefits they deserve. We understand the frustration many veterans face when working to obtain benefits from the VA and can help you appeal a denied claim to ensure you get the help you need.
For a free claim review, call 877-877-4021 or contact us via Live Chat.