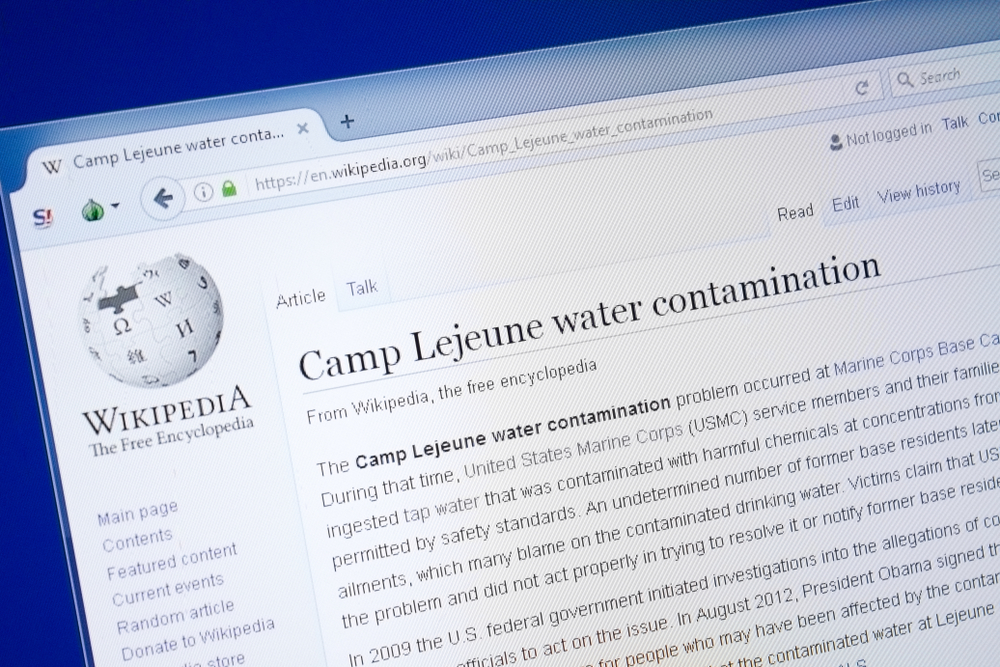 Who is Liable for Camp Lejeune Water Contamination?
Marine Corps Base Camp Lejeune is a U.S. Military training facility in North Carolina. The base has housed and employed millions of people over multiple decades, but it is most commonly in the news due to issues arising from water contamination lawsuits. 
Up until 1987, Camp Lejeune residents were drinking water that was contaminated with dangerous chemicals linked to cancer, Parkinson's disease, birth defects and other illnesses. Nearly one million veterans and civilians may have been exposed to the dangerous chemicals. 
What Caused the Camp Lejeune Water Contamination?
The water contamination was discovered by the Agency for Toxic Substances and Disease Registry (ATSDR) at two water treatment facilities, Tarawa Terrace and Hadnot Point. Volatile Organic Compounds (VOCs) seeped into the water treatment plants that supplied the base with water for drinking, bathing, and cooking. The ATSDR findings reported the presence of the following chemicals: 
Tetrachloroethylene (PERC), an industrial solvent most commonly used for dry-cleaning, most likely linked to the base's dry-cleaning shop. Exposure to PERC can lead to various types of cancers and other deadly illnesses.  
Trichloroethylene (TCE), a chemical solvent used as a degreaser for metal machinery as well as paint and stain removers. If ingested, TCE can cause cancer, reproductive system and birth defects, immune system defects, as well as liver, kidney, and nervous system issues. 
Vinyl Chloride, an industrial compound used in the production of PVC pipes. Vinyl Chloride exposure has been linked to various cancers and central nervous system issues. 
Benzene, a common chemical used in manufacturing plastics and other synthetic materials. Long-term exposure to benzene can have a dangerous impact on bone marrow, red blood cell count, immune systems, reproductive systems, and fetal development. 
Who is Liable for the Water Contamination?
For many years the Navy denied that Camp Lejeune's water was contaminated, indicating only "trace amounts" of hazardous chemicals. In 2012, Congress passed a bill that forced the Department of Veteran Affairs to extend free medical benefits to Veterans and their families exposed to Camp Lejeune's contaminated water. However, the bill did not address civil Camp Lejeune contaminated water lawsuits.  
In 2019, the Navy denied all remaining civil claims by individuals, roughly 4,500 lawsuits claiming more than $963 billion in damages. Former Secretary of the Navy, Richard Spencer, cited three legal statutes that he indicated would provide the government immunity from the claims: a North Carolina law that sets a timeline of 10 years for an injured party to file a civil claim; an exemption protecting the U.S. government from lawsuits in cases in which negligence is not clearly established; and a Feres doctrine policy that prevents military members from suing the federal government for injuries incurred during their service.  
The Camp Lejeune Justice Act Provides New Hope
A breakthrough occurred in 2022 when the Camp Lejeune Justice Act was signed into law. It allows Veterans, family members, and workers to file claims for compensation if they were exposed to contaminated water at Camp Lejeune between 1953 and 1987. The Camp Lejeune Justice Act ensures that federal law overrides a North Carolina law that previously blocked legal action of this sort against the government. It represents a turning point in the government's willingness to accept responsibility for the contaminated water at Camp Lejeune, and a much more encouraging avenue for Veterans and others seeking benefits and compensation for damages they have suffered. 
Get the Veteran Affairs Benefits You Deserve
Getting fairly compensated for Service-related illness and injury is a complicated task in a shifting legal landscape. Many Veterans benefit from external support and expertise. At Vets National Advocates, we use our knowledge to help active service members, Veterans, and family members obtain the benefits they deserve. Contact us today for a free consultation using our online form or call 1 (877) 777-4021.