Guide to Federal Employment for Veterans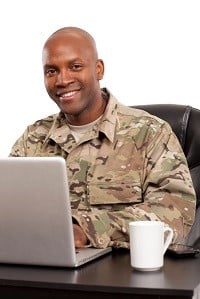 The federal government knows that veterans make excellent federal employees. Accordingly, multiple agencies, coalitions, and resources have been developed to push veterans towards federal employment and help servicemembers capitalize on the skills and training learned during active duty.
Veterans receive not only practical training during their time of service, but also learn invaluable traits like leadership and the ability to stay calm under pressure. They also often have the security clearance needed to perform high-level government jobs. If you are thinking about taking advantage of the employment opportunities the federal government offers to veterans, use this guide to begin your job search.
Step One: Review Veteran Resources
Hiring veterans is one of the federal governments top priorities. To facilitate this process and give veterans the information they need, the government established www.FedsHireVets.gov as the main resource for veterans seeking federal employment. The site compiles hundreds of useful resources, like agency directories and the names of hiring officials, and also provides comprehensive answers to many service-related questions that veterans who are transitioning into civilian employment may have.
Use this website to answer any questions you may have about the hiring process for veterans before you being searching for a position.
Step Two: Determine Eligibility for Veterans Preference
When you apply for a position with the federal government, you will be asked about your veterans preference.  Veterans preference gives eligible veterans an advantage in the application process for federal positions. Federal job applicants are ranked by a point system. An eligible veteran will have either 5 or 10 points added to their application score, giving them a definite advantage over non-veterans.
There are two types of eligibility for veterans preference: disabled and non-disabled. Non-disabled veterans receive 5 preference points for their service, while disabled veterans receive 10 preference points.
To be an eligible for non-disabled veteran preference, you must have completed 180 consecutive days of active duty service during the following time periods:
September 11, 2001 to present; OR
August 2, 1990 and January 2, 1992; OR
January 31, 1955 and October 15, 1976; OR
April 28, 1952 and July 1, 1955 (so long as a campaign badge had been authorized).
If you are a disabled veteran, you will qualify for 10 preference points if:
You served at any time, AND
You have a service-connected disability, OR
You received a Purple Heart.
If you are not sure what type of veterans preference you qualify for, use the Department of Labors Veterans Preference Advisor for guidance.
Step Three: Document Your Preference
When you apply for a federal position, you must provide documentation proving that you have a veterans preference. For non-disabled veterans, you will need to provide a copy of your DD-214, or certificate of Release or Discharge from Active Duty. This certificate will show your dates of service and your type of discharge.
Disabled veterans will need to submit an Application for 10-Point Veteran Preference, also known as a Form SF-15. This form will provide veterans of a list of all documents the veteran will need to prove that he or she qualifies for the 10-point preference.
Step Four: Start Searching for Federal Jobs
The federal government lists all open government positions on its website, www.usajobs.gov. Any person, not just veterans, can search this site for federal job openings. Veterans will be asked to submit proof of their preference for any job to which they apply. The USAJobs website also contains a variety of resources to help veterans applying for jobs, such as tutorials and resume builders.
New jobs are posted every day, and each is only open for a limited period of time. Keep searching until you find a position that fits your skills and your needs, and dont give up! As a veteran, you have the qualities the government wants in an employee!
If you need assistance applying for a veterans preference, or think you have been discriminated against as a result of your status as a veteran, the attorneys at Vets National Advocates can help. Call us at 877-777-4021 and let us fight for you.