Unbreakable Bond: Marine Reunites With Military Dog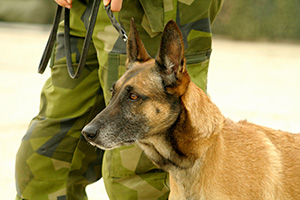 Its no secret animal-assisted therapy can help veterans with physical or mental health challenges. So imagine the joy a marine felt when he was reunited – years later – with a dog who had been by his side during a seven month tour in Afghanistan.
Lance Corporal Andrew Harmon and a military Labrador named Rebel were separated when Harmon returned home from his tour. That is until fate intervened.
Rebel was injured in an explosion and was sent to live with a family in North Carolina. However Rebels injuries were going to require expensive surgery that his new family could not afford. As a result, his owners reached out to Harmon, sparking the long-awaited reunion.
Reunited and it Feels So Good!
In an interview, Harmon said while hes had numerous dogs, hes never felt a bond like the one he feels towards Rebel.  Simply put, Harmon says his prayers have been answered. Rebel now has the love of a new family which includes Harmons one-year-old daughter and a new sibling – a Labradoodle.
As one veteran reflected, theres something special about a dog that has worked its entire life in service of our country.
Veterans who are either blind or visually impaired may benefit from a guide dog. Guide dogs help veterans navigate and alert their owners to potential obstacles near them. The Veterans Health Administration (VHA) provides disabled veterans with guide or service dogs.
If you are considering the assistance of a lawyer, agent, service officer or other organization in appealing your denied claim for service-connected benefits, Vets National Advocates may be right for you. Vets National Advocates is not a law firm; we are advocates for veterans, and our main focus is fighting for veterans who are pursuing disability benefits compensation claims that have been denied.
Call 877-777-4021 or complete our online contact form.