Veterans and Alzheimers and Brain Awareness Month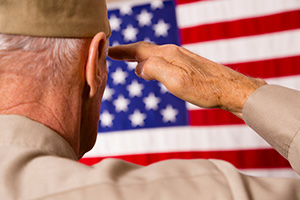 June is Alzheimers and Brain Awareness Month: A time to recognize the five million Americans affected by this terrible disease.
Although age is the greatest factor contributing to the risk for developing Alzheimers, new research released in a special issue of Alzheimers & Dementia: the Journal of the Alzheimers Association shows that veterans have an even greater risk for cognitive decline over their lifetime.
If you or someone you love has trouble getting the support you need from the government, Vets National Advocates can help. Call 877-777-4021 to learn more.
The research studied more than 53,000 veterans ages 55 and older with post-traumatic stress disorder (PTSD) and almost 128,000 veterans of the same age range without PTSD. The results showed that those living with PTSD were twice as likely to develop dementia as those without a PTSD diagnosis.
According to Michael Weiner, a guest editor for this issue of the journal, soldiers and veterans represent a unique population with a variety of factors that can contribute to cognitive decline, dementia and Alzheimers disease.
According to the study, younger veterans are also at an increased risk for developing these brain conditions because of the circumstances of modern war, PTSD, the consequences of head injuries and other war-related factors.
Another guest editor for the journal noted that brain injuries from the Iraq and Afghanistan wars represent a higher proportion of injuries than in previous conflicts because of the advancement in improvised explosive devices.
This research contributes to growing research that shows that a single traumatic brain injury early in life can lead to neurodegeneration years later.
Veteran Advocates
Countless veterans come back from war with injuries sustained during service and as well as injuries that develop months and even years later. For those who require additional support from the government, it can sometimes be difficult to get the benefits that you deserve.
If your claim for disability benefits has been denied, our veterans advocates can help guide you through the appeals process.
Call 877-777-4021 or complete our online contact form.