VA Aims to Identify Veterans at High Risk for Suicide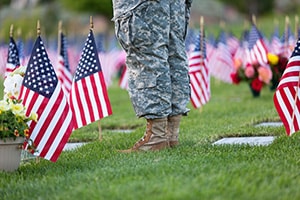 Soldiers returning from war are often left with both physical and emotional scars that last for years and from which they may never fully recover. Many are plagued by lingering memories of combat, deaths of fellow soldiers and service-related injuries.
Vets National Advocates knows the burdens that our veterans are left with after returning from war and believe that receiving the disability benefits that they need should not be an added weight. If you have been denied benefits, call 877-777-4021 for guidance through the appeals process.
Suicide Help Through Data
Because of the difficulties that our servicemen and women face after returning from war, the suicide rate for this population is four times the civilian rate and has significantly increased since 2009 among young veterans.
Current practices for identifying patients with a high-risk for suicide rely on personal evaluations by doctors and medical staff. Unfortunately, many veterans fall through the cracks.
But there may be hope through a new algorithm developed by the Department of Veterans Affairs (VA) and the National Institutes of Health that can identify veterans with a high risk for suicide and can catch two thirds of high-risk patients that clinical assessments miss.
Researchers have developed an algorithm that analyzes hundreds of variables from patient records, manner of death data and suicide predictor data from VA clinical records to predict small groups of veterans with suicide rates up to 80 times higher than most patients.
Although this database can identify high-risk individuals, it cannot predict suicide. The VA hopes to use the system to identify small groups who are at an increased and provide enhanced prevention techniques to hopefully prevent suicides.
Veterans Advocates
Veterans who have been unfairly denied important disability benefits deserve experienced advocates, like Vets National Advocates, who understand the complex VA appeals process.
Contact us today through our online contact form.