Burn Pit and Dust Exposure: Greater Risk of Respiratory Diseases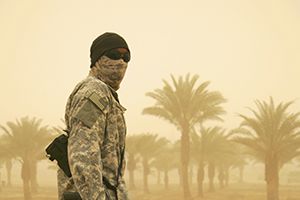 According to a recent report, troops who worked in burn pits and who were exposed to multiple dust storms during service in Iraq and Afghanistan have an increased risk for developing respiratory conditions other than allergies.
For many veterans, access to disability benefits is an important necessity. However, the application process can often be a complicated one. If you are denied, it only becomes more complex. Our team of knowledgeable veterans disability advocates can help you appeal a denied claim to get the benefits you need.
Call 877-777-4021 to speak with a representative today.
According to the data collected from the Veterans Affairs Airborne Hazards and Open Burn Pit Registry, military men and women frequently exposed to dust and burn pits may have a higher likelihood of developing respiratory illnesses like emphysema and asthma as well as rarer lung disorders like constrictive bronchitis and idiopathic pulmonary fibrosis.
The Burn Pit Registry was created in April 2014 to monitor potential health problems that can develop from exposure to airborne environmental hazards. As of December 31, 2014, almost 46,000 veterans had created accounts with the registry.
About 60 percent also completed the voluntary online self-assessment questionnaire as part of the registration that provides insight into their current health status and past exposures.
The recent findings reported by the Department of Veterans Affairs (VA) were based on questionnaires answered by more than 28,000 veterans. Below are some of the key findings from an analysis of the report:
30 percent of veterans were diagnosed with some form of respiratory condition emphysema, chronic bronchitis and chronic obstructive pulmonary disease topped the list of conditions.
One third reported a diagnosis of high blood pressure.
365 veterans listed that they had been diagnosed with constrictive bronchitis or idiopathic pulmonary fibrosis, which are rare and serious conditions that can lead to death.
While this report may provide important insight into the types of conditions that may affect younger generations of troops, many caution that report does not show a direct correlation between burn pits and these diseases more research and data is necessary.
Service members who served in the Iraq and Afghanistan wars, who served in Djibouti after September 2001 or who served in the Persian Gulf War in 1991 are eligible to sign up for the registry.
Veterans Disability Advocates
Although we are not disability benefits lawyers, we do have years of experience guiding veterans through the VAs complex disability benefits process and can help you appeal your denied claim. Contact us today to discuss your denied veterans disability claim.
You can reach us 24/7 via live chat or by calling 877-777-4021.