Vietnam Vet Takes Cross-Country Tour with Two Mules and a Cart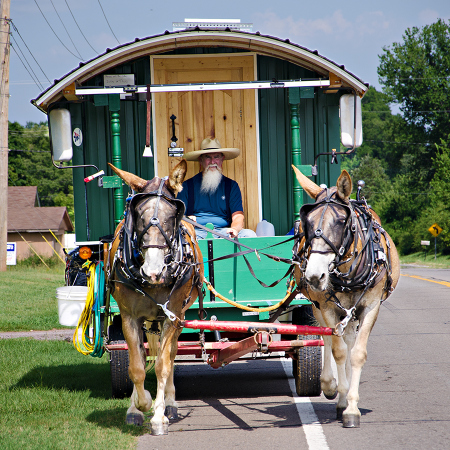 A Vietnam veteran and his two mules are trekking across the country on a pilgrimage to his fathers grave.
Charles Peters, from Owosso, Michigan, is traveling to Okemah, Oklahoma being powered only by two mules pulling a cart.
The two mules can pull the cart at approximately 3 mph, meaning the journey of almost a thousand miles will likely take several months.
Peters has never seen his fathers grave, and wants to honor his memory while raising awareness for veterans across the country.
This is the second time Peters has tried to use mules and a wagon to make the trip. Last year, he made it to Ozark, Missouri, when a vehicle struck his wagon and trailer from behind. Peters two mules were killed, and he was hospitalized with rib fractures. While in the hospital recovering from his broken ribs, Peters doctors diagnosed him with kidney cancer.
After a year of recovery and a cancer-free kidney, Peters is ready to resume his journey. He expects the trip to take about three months, but has no set schedule.
Along the way, he hopes to meet people, thank veterans for their service, and see his fathers gravesite for the first time ever.
If you see Mr. Peters along his journey, feel free to stop, wave, and share stories about his time on the roadand always be on the lookout for slow-moving vehicles. 
Tags: Veterans News