Filing a Claim for Veterans Disability Benefits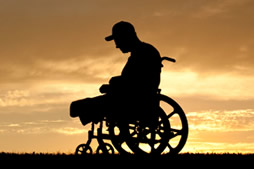 Injured veterans deserve support after suffering a disability as a result of military service. If you suffered a permanent injury which left you at least 10% disabled, you may be eligible for monthly compensation from the federal government.
---
What Is Disability Compensation?
Disability compensation or benefits is money provided by the federal government directly to disabled veterans on a monthly basis. The benefits depend on a veteran's disability rating, with more disabled veterans receiving more money than veterans with a lower disability rating. The monthly payments can range from $130.94 per month for a veteran who is 10 percent disabled with no children to $3,220.60 per month for a veteran who is 100 percent disabled with a spouse, dependent children, and dependent parents.
---
Who Is Eligible For Benefits?
In order to be eligible for disability benefits, a veteran must meet the following conditions:
Completed qualifying service or duty by:

a. Serving in the uniformed services on active duty, or
b. Serving in active duty for training, or
c. Serving in inactive duty training,

Was discharged under other than dishonorable conditions, AND
Was at least 10 percent disabled by a disease or injury that occurred during service or was aggravated by service.
Additionally, some veterans' service records automatically qualify a veteran as disabled. For example, you will be presumed disabled and eligible for compensation if you:
Are a former prisoner of war
Have certain chronic or tropical diseases that become evident within a specific period of time after discharge from service
Were exposed to ionizing radiation, mustard gas, or Lewisite while in service
Were exposed to certain herbicides, such as by serving in Vietnam
Served in Southwest Asia during the Gulf War
If you are unsure if your injury makes you eligible for VA benefits, contact Vets National Advocates for a free consultation.
---
How Do I Apply for Disability Compensation?
If you have been injured during your service, you can apply for disability benefits in several ways. The VA maintains an online website called eBenefits, which will walk you through the application process. You could also fill out a paper application form. 
After your application has been completed and you have submitted all necessary medical documentation, your claim will be reviewed by your regional VA office. The VA will then make a determination of whether or not you are disabled, and will assign you a disability rating between 0% and 100%. If you are unhappy with the decision of the regional VA office, Vets National Advocates can assist you in appealing the decision.
---
CONTACT
Vets National Advocates
If your claim for disability benefits has been denied, Vets National Advocates is here to help.
You deserve the benefits you've earned. Vets National Advocates, Helping Our Nation's Veterans.
Contact us or call(877) 777-4021 to speak with a veterans benefits advocate today.