Veterans and Cancer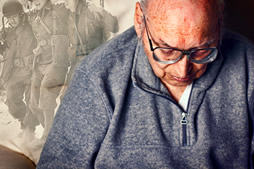 According to data obtained from the VA Central Cancer Registry, more than 40,000 cancer cases are reported among veterans each year. Veterans with cancer account for approximately 3 percent of all U.S. cancer cases.
Radiation, Agent Orange, air pollutants, chemical and biological weapons, and much more could be linked to a cancer diagnosis. If you or a veteran you love has been diagnosed with cancer after serving in the military, they may be entitled to disability compensation.
---
List of Cancers Commonly Affecting Servicemembers
Reports of cancer among U.S veterans can be dated back to World War I. However, it wasn't until World War II when thousands of military servicemembers were exposed to radiation that a clear link was established.
The VA recognizes that veterans who participated in a radiation-risk activity during service are more likely to be diagnosed with certain cancers. The VA considers these cancers "presumptive diseases." Since then, thousands more military men and women have been exposed to a number of cancer causing agents.
Some cancers commonly affecting military veterans include (but are not limited to):
Thyroid
Bone
Breast
Colon
Ovary
Respiratory cancers (lunch, larynx, trachea and bronchus)
Leukemia (Chronic b-cell and others)
Multiple myeloma
Soft tissue sarcomas
Prostate
Lymphomas
Liver
Veterans who have been exposed to certain risks while in service and have been diagnosed with a "presumptive disease" may be granted disability compensation without having to prove a connection between their service and the disease.
However, for others who are seeking veterans disability compensation you will have to show a connection between your condition and your military service.
---
Contact Vets National Advocates
Veterans suffering from cancer deserve to be compensated fairly after they have defended our country and been exposed to dangerous conditions. If you or a loved one has questions about appealing a denied benefits claim after a cancer diagnosis, we are here to help.
You don't deserve to suffer with service-connected cancer without the disability benefits you've earned.
Contact us online now or call 1 (877) 777-4021 to get in touch with our veterans disability advocates.