Depression in Veterans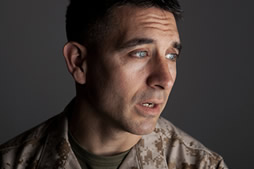 From time to time everyone feels down, but if you're struggling with an all-consuming sadness, feelings of worthlessness or thoughts of suicide, you may have clinical depression.
It is critical that veterans suffering from depression get help immediately, but it may be hard to accept that the condition is affecting you.
Exposure to traumatic events is a common trigger for depression in veterans, and fast, effective treatment is the best way to battle it.
---
Veterans and Depression
The National Alliance on Mental Illness calls depression one of the most common and expensive mental disorders plaguing our nation's veterans today. Vets diagnosed with depression account for more than 14 percent of the country's total, though researchers believe this statistic is still not as high as the actual number of people suffering from it.
---
Am I Eligible for Veterans Disability Benefits?
Although depression is not visible like a physical injury might be, you may still be eligible for disability benefits if you have service-connected depression.
The VA will award a percentage of disability to a veteran according to information provided in the claim. If your claim was denied, contact Vets National Advocates today for a free consultation.
---
Getting Treatment for Your Depression
The VA categorizes depression as a mood disorder. Treatment for depression is crucial to overcoming the devastation it can have on your life. If you're suffering from this disorder, veterans disability benefits may help with the costs of prescription antidepressants, psychotherapy treatments or other methods you and your doctor have decided to try.
It is possible to get treatment for depression, even though it may feel like hope is lost.
---
Contact us for Help Now
If you're experiencing the signs and symptoms of depression, contact a healthcare professional to discuss your options. Also, filing a claim for veterans disability benefits can get you and your family the medical and financial benefits you need to treat your condition.
If you need help filing an appeal after your claim was denied, contact Vets National Advocates today for a free consultation. We only work on a contingency fee basis so you will only pay us if your claim is successful.
Don't suffer with depression without the compensation you've earned.
Contact us online today or call 1 (877) 777-4021.