Mental Health & Psychiatric Disability Claims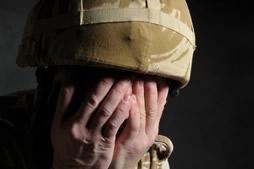 Filing psychiatric disability claims may seem like a daunting task if you're suffering from a mental health condition. Finding out that your claim has been denied may be an even more crushing blow to your psychiatric health.
If your disability claim was denied, or if your disability rating is unfair, don't give up! Vets National Advocates can file your appeal and help you get the benefits you deserve.
---
Psychiatric Conditions affecting Veterans
The most prominent psychiatric condition that veterans face after serving is post-traumatic stress disorder. However, other issues, like depression, anxiety, alcoholism and violent behavior can also plague service members.
A study published by JAMA Psychiatry found that one in 10 veterans face mental issues after combat, and that post-traumatic stress disorder (PTSD) has been linked to an increased likelihood of developing dementia in older veterans.
A diagnosis of PTSD means that the veteran may be eligible for disability compensation, but it is important to understand how the VA determines the amount of compensation the service member can receive.
---
How the VA Determines Levels of Disability
Across all psychiatric conditions, the VA uses the same schedule to rate disabilities. The agency has developed diagnostic codes (DCs) for various medical and psychological conditions to correspond with the severity of related symptoms.
Psychiatric disabilities are rated at 0%, 10%, 30%, 50%, 70% and 100%, accordingly.
Mental disorders that cause total social and occupational impairment are given a 100% disability rating. Symptoms may include hallucinations, gross impairment of thought and communication functions, disorientation in time and place or intermittent ability to perform activities of daily living.
Disability ratings of 10-70% mean the service member exhibits degrees of inability to assimilate to social activities and perform the duties of their occupation.
A disability rating of 0% means a psychiatric condition has been diagnosed, but the VA does not feel it has had any lasting effects on the service member's ability to live life. A 0% disability rating is non-compensable.
---
Contact Vets National Advocates for Help Now
If your psychiatric disability claim has been denied, we can help you get the compensation you deserve. Our advocates can help you fight for the disability compensation you and your family may desperately need.
You deserve the benefits you've earned – Especially after the trauma you've endured.
Find out how we can help. Fill out our contact form or call us at 1 (877) 777-4021.