Anxiety in Veterans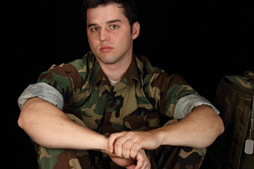 Anxiety is a normal reaction to stress, but for some veterans suffering from the emotional trauma of service, anxiety can be a paralyzing emotion.
Post-traumatic stress disorder (PTSD) or the stress of returning to civilian life can spark anxiety in veterans. If anxious thoughts are affecting you or someone you love you can get help.
Learn more about Mental Health and Psychiatric Disability Claims and filing a disability claim for anxiety.
---
Types of Anxiety Disorders
Anxiety is deeper than being somewhat fearful. It is an overwhelming expectation that a threat is present; veterans living with anxiety may feel constantly uneasy about everyday situations. Common anxiety disorders fall into several categories:
Generalized anxiety disorder (GAD)
Panic disorder
Post-traumatic stress disorder (PTSD)
Social anxiety disorder (SAD)
Specific phobias
Every VA medical center offers mental health services. Contact your local VA to get connected with a clinic near you, or visit our Mental Health and Psychiatric Disability Claims area.
---
Veterans and SAD
Social anxiety can be associated with PTSD, especially if the veteran experienced combat trauma. If a veteran is suffering from social anxiety, they may avoid some of the following situations:
Being assertive, such as refusing unreasonable requests
Dating
Initiating a conversation
Parties
Public gatherings
Speaking to people of authority
Using public restrooms
People suffering from any form of anxiety may feel overly nervous or jumpy, they may be irritable or become easily distracted. They may also worry about small, everyday decisions for several days in a row. These behaviors are a sign that something more serious is at play than normal nerves.
---
GAD: How is it Treated?
Speaking with a medical professional about your individual experience is critical to treatment success. GAD is usually treated by psychotherapy, medication, or a combination of the two.
Psychotherapy
According to the National Institute of Mental Health (NIMH), a form of psychotherapy called cognitive behavioral therapy (CBT) is most successful at treating various forms of anxiety.
CBT can teach veterans how to re-think situations so they are not as worried. It allows them to consider their thoughts and feelings before reacting to their circumstances automatically.
Medication
Anti-anxiety medications and antidepressants are usually prescribed to help combat GAD. Working with a medical professional to diagnose GAD and prescribe the appropriate anti-anxiety medication is critical in overcoming the issue.
---
How to Get Help from Our Veterans Disability Advocates
Some people will respond better to one type of treatment while others have the greatest success combining them.
Are you constantly fighting anxious feelings? You may be eligible for veterans disability benefits. Vets National Advocates are here to help you understand and obtain the benefits you've earned serving our country.
You deserve peace of mind – Let us fight for the benefits you deserve.
Contact us now or call 1 (877) 777-4021 to discuss your claim with one of our advocates.