July Fourth: Fireworks Can Trigger PTSD for Veterans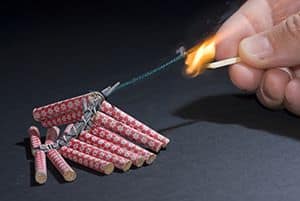 Fireworks exploding on the Fourth of July can have unintended consequences for some war veterans who suffer from post-traumatic stress (PTSD). It is condition that affects an estimated 60 to 80 percent of our nation's veterans.
The Department of Veterans Affairs and the Institute of Medicine says many combat veterans are rattled, and unsettled by fireworks and flashing lights. Doctors say the loud blasts can cause anything from a startle to full-blown panic attacks or combat flashbacks in people who are vulnerable.
Other common symptoms of PTSD may include:
Reliving the event, or flashbacks
Feelings of detachment, emotional numbness or depression
Living in a constant state of alertness or readiness for danger
Clinical psychologists say the bigger displays are not so much a problem, its the smaller fireworks such as bottle rockets and other projectiles. Smaller fireworks create sudden noises that can trigger re-experiencing episodes of traumatic gunfire and wartime explosions. As a result, it is not uncommon for firecrackers to cause panic attacks.
Many veterans groups are spreading the word about Fourth of July celebrations and the effects it may have on veterans. The groups are asking communities to be more considerate of veterans in their area. Neighbors are also asked to give fair warning if they are going to be celebrating with fireworks at home.
In return, veterans are asked to put signs in their yards letting neighbors know a veteran lives there.
Veterans experiencing any of the aforementioned symptoms should contact a health care professional to determine whether they are suffering from PTSD.
PTSD Claims for Veterans
If you are struggling with PTSD, a denied benefits claim may seem devastating. Don't give up! Vets National Advocates can help you file an appeal and fight for the compensation you and your family need to help you successfully recover and live a full life.
Complete our online contact form to get started.