Cardiovascular Conditions in Veterans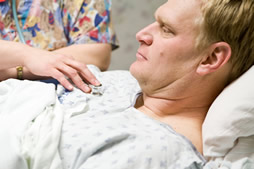 Heart disease is a category of conditions that involve the heart, blood vessels or both. Heart disease is the leading cause of death among men and women.1 Although heart disease can be treated, it can increase the risk of a person suffering a heart attack, stroke, heart failure of peripheral vascular disease.
With heart disease affecting more than half a million people in the United States1, many of our veterans also suffer from severe heart conditions.
Veterans may be entitled to disability compensation for certain service-connected heart conditions, however, they must first meet the requirements designated by the VA.
Are you unsure if you qualify for service-connected disability? Have you been denied compensation for your heart disease claim? Vets National Advocates can help you obtain the compensation you deserve and answer all your veterans disability questions.
---
Heart Disease & Agent Orange
In 2008, the Institute of Medicine released a report that linked Agent Orange exposure during Vietnam to ischemic heart disease and Parkinson's. In 2010, the VA issued a final rule and listed ischemic heart disease as a condition presumed to have been caused by Agent Orange. Following such information the VA announced that some veterans and surviving spouses may also be eligible for retroactive claims. It is estimated that about 86,000 veterans and surviving spouses could be eligible for compensation they were once denied.
Veterans with ischemic heart disease who were exposed to herbicides during service may be entitled for disability compensation. Surviving spouses, dependent children and dependent parents of veterans who were exposed to these dangerous herbicides and died as a result of ischemic heart disease may also be eligible for survivors' benefits.
---
Heart Disease & Post-Traumatic Stress Disorder
In June 2013, a study from the Emory University School of Public Health revealed that Vietnam War veterans suffering from post-traumatic stress disorder (PTSD) were at an increased risk of heart attack and stroke.
The study followed more than 200 pairs of male twins, all Vietnam vets, for more than a decade and found that almost 25 percent of men diagnosed with PTSD also had heart disease.
Previous research, including one study focused on veterans from the Iraq and Afghanistan wars, revealed that vets diagnosed with PTSD and other stress disorders were more likely to develop heart conditions.2
---
Types of Cardiovascular Conditions
Ischemic heart disease, linked to Agent Orange exposure, involves a reduction of blood flow and oxygen to the heart. Over time this type of heart disease can damage and weaken the muscles in the heart. Ischemic heart disease is one of the most common causes of heart failure.
Some others types of heart disease in veterans includes:
Hypertension
Endocarditis
Arteriosclerosis
Myocardial infarction
Cardiomyopathy
Valvular heart disease
Ischemic heart disease
Arteriosclerosis and hypertension, better known as high blood pressure, are the two most common types of cardiovascular conditions diagnosed among Americans.
The VA also notes that heart disease is the number one killer of women; nearly one-third of women receiving medical care through the VA have high cholesterol or high blood pressure, two problems that could lead to more serious heart conditions.
Veterans should always speak with their doctors about any symptoms they believe could be linked back to a heart condition. Additionally, making lifestyle changes such as exercising more, choosing healthier foods and refraining from drugs, alcohol and smoking can help decrease the risk of heart attack, stroke and death.
---
Signs of Cardiovascular Conditions
The most common symptom of coronary artery disease is angina, better known as chest pain. Angina can be described as an uncomfortable feeling of heaviness or pressure in the chest. Some might also experience a burning, squeezing or aching feeling in the chest.
Some other signs of cardiovascular problems include:
Anxiety
Shortness of breath
Rapid or irregular pulse
Nausea or lack of appetite
Sweating
Fatigue
Some people mistake heart pain for indigestion or heartburn, which is why it is important to seek out medical assistance if you believe you may be suffering from a serious heart condition. If left untreated you may end up suffering from a heart attack or stroke. Those who are close with someone who is a veteran should also recognize the warning signs of a heart condition, it could help save a vet's life.
---
Evaluating Heart Conditions
To be evaluated for a VA heart condition, the veteran must be diagnosed with the condition using a method the VA recognizes. Heart conditions may be evaluated using a "metabolic equivalents" (METS) test which is performed while exercising. Doctors may also look for left ventricular dysfunction which requires a special scan of the heart's ability to pump blood.
The VA has several codes under which heart disease may be evaluated, the code will be determined by whether or not the veteran suffered a certain type of heart malady, heart failure or required surgery such as heart bypass.
Obtaining a direct service connection for your heart condition will require the diagnosis of a current heart condition, evidence of an incident in service that led to the condition and medical evidence that the incident in service actually caused the ailment.
Congenital heart disease is a genetically caused heart disease; However, if it can be proven that the veteran's current condition is service-related or was made worse by service, the victim may be entitled to receive disability compensation.
---
Contact Vets National Advocates Today
Filing for disability compensation due to heart disease can be a difficult and lengthy process. If you or a loved one need help filing a veteran's benefits claim or have been denied compensation, our advocates are ready to help. If you have lost a loved one due to heart disease, we may be able to help you file a claim for survivor's benefits.
At Vets National Advocates, we are dedicated to helping our veterans and their families receive the compensation they deserve.
If your heart problem is service-connected, you deserve the benefits you've earned.
Contact us online now or call 1 (877) 777-4021 to get connected with one of our advocates.
---
Sources:
 1Centers for Disease Control and Prevention