Survivor Benefits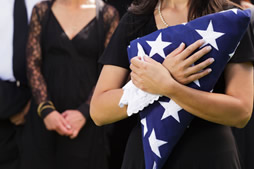 Military death benefits may be extended to family members who have lost a loved one who served. These cash benefits can provide a dignified burial and pension benefits for surviving spouses or children. The VA maintains strict eligibility standards for each type of benefit.
---
Death and Burial Benefits
Burial benefits allow deceased veterans to be buried in one of the 131 national cemeteries. Veterans' burial benefits also include the opening and closing of the grave, perpetual care, a government gravestone or marker, a burial flag, and a Presidential Memorial Certificate. 
Learn more in our Support & Resources for Family Members section.
These benefits come at no cost to the surviving family. Anyone wishing to learn more about the benefits available for death and burial may visit the VA's National Cemetery Administration webpage.
For eligible spouses, children and parents of servicemembers who have died or who have been completely disabled, the Veterans Benefits Administration (VBA) provides extensive benefits and services.
---
Who is Eligible for Survivor Benefits?
Eligible parties may receive various levels of compensation and assistance, including:
Financial assistance with funeral or memorial services
VA home loans
Dependency and Indemnity Compensation
Parental Dependency and Indemnity Compensation
Survivor's pension
Survivor and dependent assistance
Marine Gunnery Sergeant John David Fry Scholarship
Each family will have access to an individual casualty assistance officer who can guide you through the process to ensure that you have access to all of the entitlements and benefits you deserve.
Eligibility for the various benefits depends on an individual case-by-case assessment of each survivor or dependent. Each application for benefits will be determined at your local VA regional office. Find out which regional office processes applications for your state on the VA's website.  
---
A Survivor's Guide to Benefits
The Department of Defense publishes the annual Survivor's Guide to Benefits to address the issues surviving family members may face after losing a loved one. The guide provides information on how to utilize the full extent of the military family support that is available to them.
The guide addresses topics like meeting your casualty assistance officer, getting assistance for funeral or memorial services, finding financial assistance, and more. 
Download the full PDF version of A Survivor's Guide to Benefits.
---
Dependent And Survivor Services
To apply for survivor's benefits or services, dependents and survivors can use the eBenefits portal to file a claim. Once eligibility is determined, dependents and survivors can take advantage of VBA services tailored to address their needs. Services include:
Educational or career assistance
Financial counseling
Preferential civil service treatment
Birth defect financial assistance
Fiduciary and trustee guidance and services
---
Widows and Surviving Spouses
Survivors of deceased service members who served at least 90 days of active duty (prior to September 7, 1980) or 24 months of active duty (after September 7, 1980) and who were honorably discharged are eligible for the Survivors' Pension.
The amount of benefits provided is determined by the yearly income of the family, which must be less than the amount established by Congress.
Surviving widows and spouses may be any age to qualify for these benefits, as long as they remain unmarried.
Dependency and indemnity compensation (DIC) benefits are available to survivors of service members who were killed on active duty, and for surviving family members of veterans who died of a service-connected disability, or who had a 100% disability rating at the time of their death.
Survivors receiving DIC may qualify for back payments that are due to the deceased veteran. DIC benefits replace ongoing disability benefits; collecting one type of compensation makes the family ineligible for the other.
Anyone wishing to learn more about veterans' benefits for widows or surviving spouses can visit the VA's Survivors' Pensions webpage.
---
Survivor Benefits for Children
In order for children of deceased veterans to qualify for financial assistance, the child must either be under age 18, under age 23 if attending a VA-approved school, or permanently incapable of self-support after the age of 18.
Children may also be eligible for DIC benefits.
To learn more about survivor benefits for children, visit the VA webpage on Survivors' Pensions.
---
Providing the Resources You Need
No amount of compensation can bring back a lost loved one. However, compensation benefits may be available to you if you lose a loved one who served. We are here to help by providing the resources you need to start your survivors pension claim.
You are not alone – We are here to help.
Contact us online or call 1 (877) 777-4021 if you would like help finding additional resources.