Education & Employment

One of the most important steps in transitioning from military service to civilian life is securing a stable job. The VA, as well as many veterans advocacy groups, provide a number of resources to make this transition as smooth as possible. The resources provided here have information on veterans' education benefits and career services.
Servicemen and women with disabilities may have a difficult time making this transition if their disability prevents them from keeping gainful employment. As a result, it is critical that veterans' disability claims be filed successfully to receive the full benefits available.
---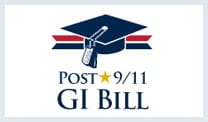 Have you served at least 90 days on active military duty? You may be eligible for tuition assistance and financial aid for college and university education, trade school, flight school, on-the-job training or an apprenticeship.
---
VETS serves veterans and separating service members by preparing them for meaningful careers, providing employment resources and protecting their rights.
VetCentral gives veterans the tools they need for success in a civilian career. Learn about how to build a resume and find a job with a vet-friendly company all in one centralized career forum.
---
Training, job placement and education placement are provided through the VetSuccess program, as well as counseling and other services necessary to find—and keep—suitable jobs.
---
Contacting our Veterans Advocates
Our team can help you understand VA procedures involved in appealing a denied disability claim. Contact Vets National Advocates for a free consultation today.
Fill out our FREE case evaluation form or call us at (877) 777-4021 for help now.