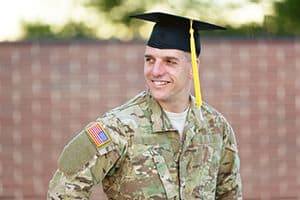 Military servicemen and women are stationed all across the country and the world and are required to move more than the average person. This causes problems for service members seeking to further their education for whom out-of-state tuition and fees can be a financial burden.
Under a requirement by the Veterans Access, Choice, and Accountability Act of 2014, put into effect by the Federal Government, all states will be required to provide accessible education to veterans to help alleviate some of these burdens.
At Vets National Advocates, we know the many burdens that veterans are faced with when transitioning back into civilian life. That is why we do everything we can to help them in areas where they may be struggling.
If your claim for disability benefits has been denied, call 877-777-4021 for help appealing your claim and getting the benefits you need.
Education Benefits in Pennsylvania
Although the date that the new requirements were supposed to take effect was pushed back six months from July 1, many states have already complied, including Pennsylvania, whose law, which went into effect last week, goes beyond the required limits.
The federal law applies to Post-9/11 GI Bill and Montgomery GI Bill Active Duty veterans who apply to a public institution within three years of being discharged. It also covers a spouse or dependent using transferred benefits within the same timeframe.
The Pennsylvania law takes this a step further and does not place a time constraint on when they can enroll, includes multiple types of education benefits and also provides an in-county rate for veterans attending community colleges. It also expands these rights to active military and civilian personnel stationed in the state.
Typically, students are required to live in the state for one year, in addition to other conditions, to receive in-state tuition. This new law eliminates that often difficult requirement for veterans and service members.
If you are struggling to get the benefits that you require from the government, our experienced advocates can help appeal a denied claim.
Call 877-777-4021 or complete our online contact form.