Traumatic Brain Injury (TBI) in Veterans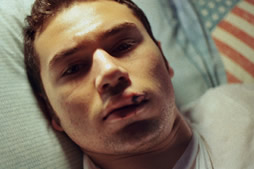 Traumatic brain injury is considered a signature grievance of the Iraq and Afghanistan war, although its history in the military runs much deeper. Traumatic brain injury, or TBI, occurs when sudden trauma to the head disrupts the function of the brain.
Damage to the brain can be difficult to detect. Diffused injuries can cause insufficient blood supply to the brain whereas localized damage can lead to bruising of the brain or hemorrhaging. Traumatic brain injury veterans are likely to deal with physical and psychological damage as a result of head trauma.
If you or a veteran you love has suffered a traumatic brain injury, you may be entitled to disability benefits.
Vets National Advocates can help you determine eligibility and explore your rights so that you may receive the benefits you are entitled to.
Veterans with TBI who suffer from a disabling condition will often require special levels of coordinated and clinical care along with other services. The VA has a traumatic brain injury system which provides comprehensive care for TBI veterans who have also suffered another disabling condition.
---
Traumatic Brain Injury 
Because this type of disability typically includes traumatic brain injury and another disabling condition, polytrauma can be linked with a number of disabilities, including:
Amputation
Visual impairment
Hearing impairment
Spinal Cord Injury
Post-traumatic stress disorder
When a traumatic brain injury occurs, it can be considered a mild, moderate or severe and penetrating case depending on the related effects. These effects can manifest in three separate ways—effects that impact the body, mind, or the way the veteran behaves.
Physical effects
Headaches
Ringing in the ears
Fever
Fatigue
Loss of hearing
Loss of sense of touch
Convulsions of seizures
Behavioral effects
Anxiety
Frustration
Impulsiveness
Depression
Loss of inhibitions or emotions
Mood swings
Cognitive effects
Inability to concentrate
Memory loss
Lack of judgment
Communication problems
Loss of coordination
Slurred speech
Increased restlessness, confusion or agitation
The VA can provide a TBI screening for veterans who believe they may have suffered a TBI. Individuals who were involved in an explosion, vehicular crash or fall are especially advised to get screened for this type of injury. In TBI cases especially, early detection is critical for proper treatment.
According to the Brain Trauma Foundation, about 10 to 20 percent of Iraq veterans have some level of TBI, and among wounded troops the rate of TBI increases to 33 percent. The rate of traumatic brain injury is highest in the Army with nearly 20,000 cases reported in 2011. The majority of the cases of military TBI were considered mild to moderate.
---
Eligibility for TBI Claims
In recent years, the VA has been criticized for minimizing the effects of TBI on veterans, and not awarding adequate compensation or benefits to those suffering from the condition. Because of this, the VA has proposed a revised regulation to help more veterans with TBI qualify for benefits.
If a veteran can prove the following conditions are the result of a moderate to severe TBI, they may be eligible for benefits through presumed service connection:
Parkinson's disease
Seizures
Certain forms of dementia
Depression
Hormone deficiency
The VA will use MRI or PET tests to screen for these conditions, and will also consider the length of the altered mental state as well as the veteran's score on the Glasgow Coma Scale.
If, however, service connection is not established this way the veteran may not be available for presumptive service connection benefits and will have to further prove that their TBI was the result of serving.
---
Causes of Military TBI
Although a brain injury could occur in the battlefield, there are many other ways a veteran may suffer a TBI.
Common causes of TBI include:
Falls
Motor vehicle accidents
Improvised explosive devices (IEDs)
Physical combat
Sports accidents
As the war winds down, many veterans may suffer from this type of injury off the battlefield or even when they return home.
---
Contact our Veterans Advocates Today
The VA recently increased the disability rating for traumatic brain injury veterans, depending on the extent of the injury you may be eligible to receive up to 100% disability.
Vets National Advocates can help you fight for your right to the compensation you deserve.
You shouldn't suffer without the benefits you've earned serving our country.
Contact us now or call 1 (877) 777-4021 today, and let us help you with your disability claim.